Problem Gaming: Algorithms of Manipulation
JC Ltd. has been monitoring emerging issues found at the intersection of technology, ethics, entertainment, regulation, and consumer protection. Lets analyse the multi-billion-dollar problem of manipulative algorithms and gambling in video games.
At a glance: Gaming industry giants like Activision Blizzard and Electronic Arts (EA) are facing serious regulatory threats to their primary revenue source of in-game microtransactions, due to backlash against manipulative algorithms and pricing structures. This could shake up the world's fastest-growing entertainment industry, and has serious implications for how we interact with technology.
Pay to play: The recent release of Activision Blizzard's mobile game Diablo Immortal was the last straw for gamers and regulators alike. While the game is free to play, it became clear that a player could not progress past a certain power level without consulting the in-game real-money shop and buying upgrades. While it isn't unusual for mobile games to rely upon microtransactions for revenue, Diablo Immortal is certainly the most egregious example of consumer manipulation to date.
In-game microtransactions are usually Loot Boxes which can come in the form of supply crates, card packs, and treasure chests. Players are often incentivised to spend real money on these boxes for a chance of receiving a rare and more powerful piece of equipment, in-game resources, cosmetics, and much more. Loot box rewards are randomised, and herein lies the gambling element that regulators, mostly in Europe, have been tackling in recent years.
Upon crunching the numbers it was found that it could take around USD$100,000 to get the best equipment and stats in Diablo Immortal. New Zealand streamer Quin69 poured NZD$25,000 into the game before he received a single Legendary Gem, and it takes six of these gems to complete a high level character. Quin apparently committed to getting the gem just to prove to his audience how predatory the game is and proceeded to uninstall Diablo Immortal soon after, expressing his disdain for Blizzard in this tweet. Feeling lucky? Here's a Diablo loot box simulator so you can see what a gem could do to your wallet.
Algorithmic manipulation: Activision Blizzard simply states that no one is forced to spend money on their games and players do so under their own free will.  However, they have designed algorithms to manipulate players and push them towards the in-game shop where they're confronted with products deliberately designed to be confusing and predatory.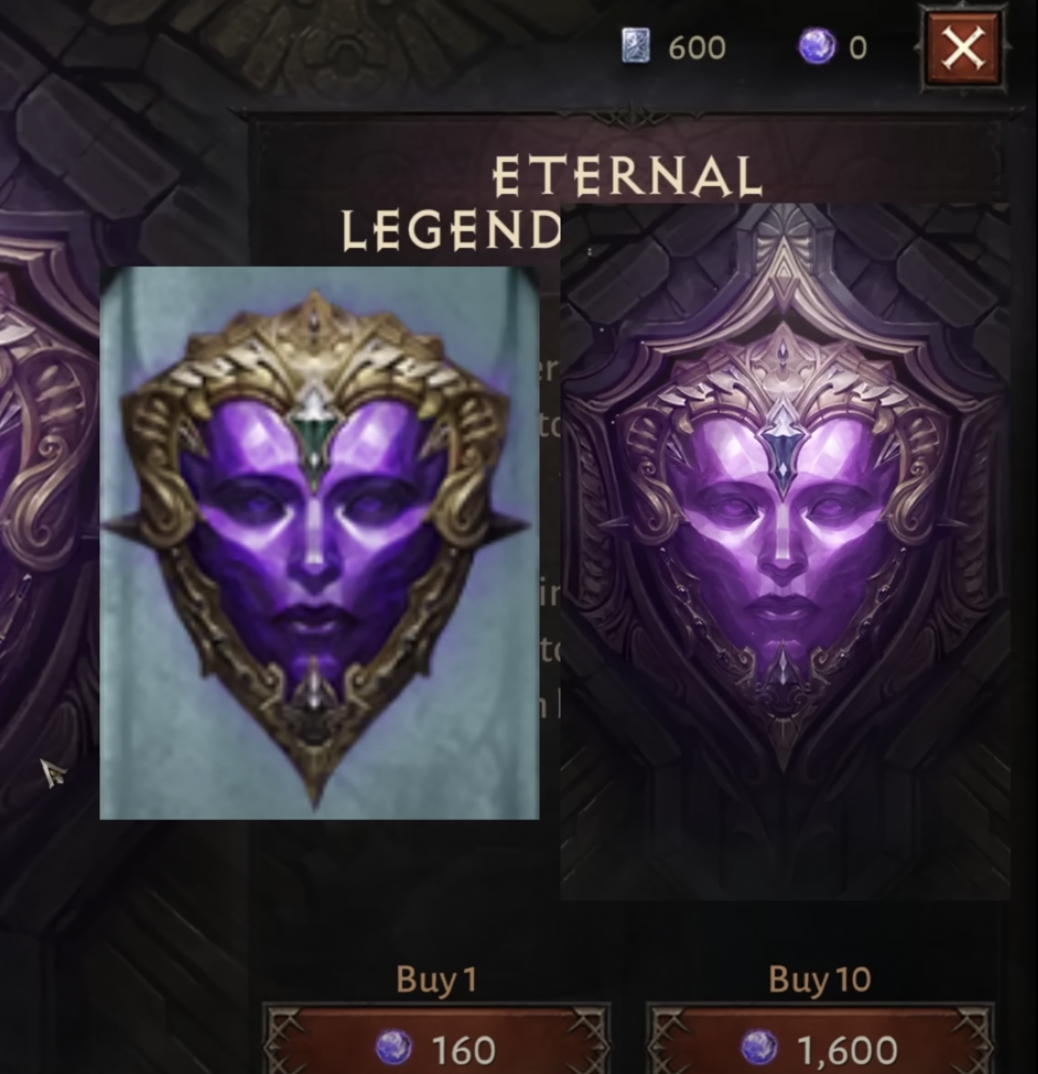 There are sixteen different resources and currencies in Diablo Immortal. Yes, sixteen. Many of them look similar, functional similarly, and cost around the same. An example of predatory pricing structures: you can buy a pack of 60 'orbs' but any useful amount of these orbs is in multiples slightly misaligned with this number, like 40s, 50s , and 65s So, you could purchase two packs, receiving 120 orbs, only to discover that you can only spend either 100 or 160 orbs; pushing the player into purchasing more packs, primarily by leveraging the psychological phenomenon called the Sunk-Cost Fallacy. This is also reinforced through endless 'bundles' and daily deals to manufacture scarcity and 'added value'.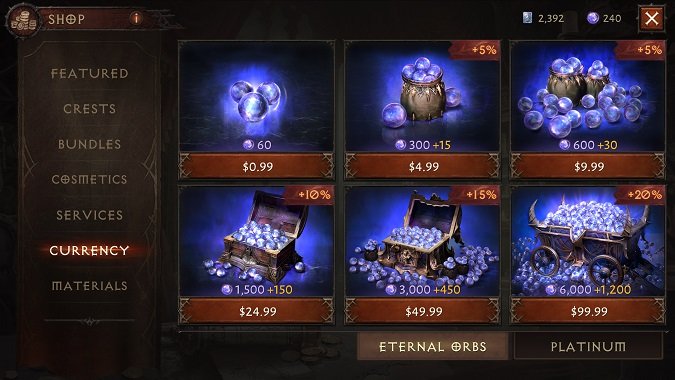 On top of all this, consumers are usually protected by an in-game pop-up checking that the player is sure they want to spend money. Blizzard has accommodated this by making sure the only purchases available at the start of the game are around NZD$1.50. Once it's passed the authorisation barrier with this small dent to your wallet the game unloads the one-click no-authorisation-needed $25-$100 dollar purchases. This is really just the tip of the iceberg, and the manipulation progressively worsens as you get further into the game.
What does this mean for the industry? Upon release Diablo 'Immoral', as gaming communities coined it, was immediately banned in Belgium and the Netherlands on the grounds that its microtransactions, and the manipulative algorithms leading players to them, were directly harmful to users. Precedent existed for such a move because in 2018 EU regulators successfully fought against pay-to-win loot boxes in EA's title Star Wars Battlefront II, getting them legally classified as gambling and fining EA hundreds of thousands of euros every week they remained in the game.
At a recent seminar on loot boxes, Spain's Ministry of Consumer Affairs offered a scathing analysis of what they call the Random Reward Mechanism (RRM) revenue model:
       "the most serious consequence… is the emergence… of thoughtless, compulsive and ultimately pathological consumption behaviours, all based on the mechanisms of psychological activation… which is the cause of serious economic, patrimonial and affective repercussions."
Authorities in Europe are proposing a reoccurring fine of between two hundred thousand to one million euros for developers that continue to push predatory RRMs onto consumers. Gaming companies are making claims of regulatory overreach, but their unwillingness and inability to self-regulate is abundantly clear.   
Ongoing risks to companies and consumers: We need to grapple with how technology, particularly algorithms, facilitate patterns of consumer behaviour and how much ethical responsibility might be accepted by both producers and consumers.   
Perhaps the ethical responsibility to mitigate the harm caused by RRM business models should not be thought of as the sole burden of the developers, as it's also reasonable to argue that some responsibility sits with the consumer. Given this, what might empowering users to engage in ethical consumption practices look like in regards to digital technology in the future?
The gaming industry has undergone a sea change in recent years towards the 'games as a service' business model. This offers more stable and reoccurring revenue, to the delight of investors, but is normalising the release of unfinished titles that only reach playability through online updates months after launch. Additionally, we're seeing the prioritisation of 'whales' – the small number of players who are willing and able to spend thousands of dollars on in-game microtransactions – to supply most of their revenue. This alienates the vast majority of the player base and erodes company reputation in the pursuit of enormous profit margins.
Facing increasing pressure in the west, Activision Blizzard is likely to lean further into its main cash cow: the Chinese market. China is the largest gaming market in the world with around 660 million players, and players are far more tolerant of microtransactions. There's a growing culture of utilising big spending on microtransactions as a proxy representation of wealth and status amongst some player demographics in China; undoubtedly a by-product of a burgeoning middle class with increased access to smart phones. With NetEase oversight and heavy restrictions on playtime, however, doubling down on the Chinese market is a riskier strategy than it would seem.     
Risk assessment practitioners would be wise to monitor this industry closely. Gaming is the fastest growing entertainment industry, and recent mergers and acquisitions boast unprecedented figures. In January Microsoft announced it was acquiring Activision Blizzard, the creators of World of Warcraft, Call of Duty, Overwatch and more, for USD$68 billion. Sony recently announced the acquisition of Bungie, developer of the Halo and Destiny franchises, for $3.6 billion USD.  
Emerging New Zealand gaming companies need to take stock of these risks and anticipate how their pathway may be influenced by algorithms, loot boxes, regulation, and wider industry trends. Kiwi developers like Rocketwerks, Staples VR, and A44 Games have experienced success with some even attracting investment from Chinese entertainment giant Tencent, which has a net worth of $402 billion, and emerging studios such as Rapa XR are preparing to make their mark. Microsoft and Amazon are eyeing-up server centres in New Zealand to accommodate the growing gaming market and entertainment environments in virtual and augmented reality.
Like these developers, the New Zealand policy makers will have to navigate this emerging information environment and find the right balance between consumer protection, ethics, profit, and enforceable legal frameworks. We know that traditional gambling mechanisms like slot machines tend to prey on some of the most socio-economically vulnerable. Could a legal framework exist that ensures algorithms are upholding Treaty of Waitangi obligations? We are still at the genesis of such critical issues, thus it's essential to begin unpacking them into workable policy pathways and ethical frameworks to minimise risks.